Raksha Bandhan is Hindu celebration like no other. It is the day brothers and sisters celebrate the love and bond between them. Sisters tie a decorated thread on the right hand wrist of their brothers as a reminder of their love. The tying of a talisman also offers protection against evil. Something sweet is exchanged between the siblings. The brother offers a gift and also vows to protect and be there for his sister in times of need. Many women also tie a rakhi on their close friends as a sign of caring and a close bond. From this moment on, the relationship changes from being a friend to a family member and is honoured by all.
The following is a story and recipe from TROPICAL VEGETARIAN COOKBOOK
Screen+Shot+2018-08-21+at+8.12.25+pm.png
I was 6 years old and it was my birthday. I was thoroughly spoilt by both sets of grandparents and all my aunts and uncles. You could say that I was the centre of attention and to be honest I think I thrived on it…. sorry Munna for biting you in a fit of jealous rage. (I think I would have been no older than 2 or 3 yrs old and Munna, my dads youngest sister about 4 or 5). But today was somehow different. My sixth birthday and I have vague memories of a sense of anticipation in the air. I remember, fiddling with the transistor radio but no one seemed to be paying any attention to me. There was a lot of hustle and bustle at home. It was announced later that evening that my brother, Neil, had been born. I recall bursting into tears. No!! not on my birthday!!
But my Aaji sat me down in her lap and explained how blessed I was, it was my birthday AND is was Raksha Bandhan and I had been gifted a brother… how lucky and blessed was I!!
Screen+Shot+2018-08-21+at+8.33.31+pm.png
Raksha (meaning protection) Bandhan (bond) or Rakhi is a Hindu festival which falls in the month of August on a full moon. This festival celebrates
the relationship between brothers and sisters. The festivity is marked by the tying of a rakhi, (a blessed thread) by a sister on the wrist of her brother. The brother in return offers a gift to his sister and vows to look after and protect her. The sister does the aarti (and can also garland her brother) and feeds something sweet to her brother. No matter what there is no sibling bickering on this special day. This amazing festival celebrates and binds a brother and sister with love. It is also celebrated between cousins or any two people who care for one another in a sibling sense; making the bond even stronger as the vows of protection are taken pretty seriously. Every effort is made to visit each others place on this particular day bringing the family together. Raksha Bandhan is truly a unique festival pertinent to the Hindu culture. No other culture celebrates the bond between a brother and sister quite the same if at all.
Its amazing the memories that stick in our minds from our childhood. I now know exactly how blessed I am to share my birthday with my brother, my
Raksha. He has always been a strong influence and presence in my son Sean's life and for that I am truly blessed.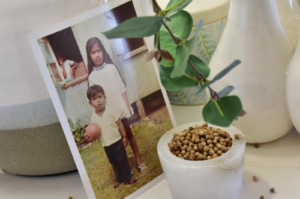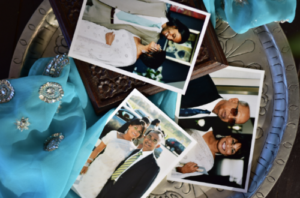 "I smile because you are my brother, I laugh because there is nothing you can do about it"!!