It's a constant in her garden and always has been along with chillies.  Its one of those comforting plants to see in the vegie patch.    
Easy and quick to grow, the herbie flavour of coriander combined with chillies, tomatoes and seasoning has the ability to add drama and pazzaz to almost any Indian dish.  Rice and dahl, pakoras, samosa, yoghurt and rice, khitchri, idli and dosa, any curry and even pappadums.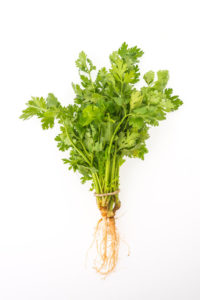 Every part of this fragrant herb is used, from its roots to eventually when it seeds.   The leaves (herb) are known as Cilantro whilst the seeds (spice) are called Coriander.  True to its meaning (Coriander means Hidden Wisdom) this plant has a lot to teach us about life.  Balance and harmony, ups and downs and of course the simplicity of life.  If only we could be like a coriander plant, growing tall with nourishment and water, bowing our heads in the heat of the summer sun, giving with every part of our being,  maybe we too could lift up the lives of those around us just as this chutney does being the sidekick to any dish, but is it just a sidekick or the star of the show??