Earlier this year, just before the whole world was turned upside down, darling heart and were fortunate enough to squeeze in a quick trip to India.
A visit to Oberoi's Wildflower Hotel in the Himalayas was long overdue.  It had been on my bucket list for a long time…. Something about being in the Himalayas just seemed so romantic and removed from the grind of everyday life.
Our journey required a day's break in Chandigarh, the gateway to Himalayas; leaving us time for a quick sojourn at Oberoi's New Sukhvilas Resort.   I had planned for a spa day.  Being pampered after a long journey seemed just like the way to spend the day at this wellness retreat.
I must admit, on our drive from Amritsar to Chandigargh, I was in my own world.   Driving for miles along beautiful sarson ke kheths  (mustard fields), my mind completely adrift with scenes from various Bollywood movies… you know the Dilwale Dulhania Le Jayenge scene with Kajol in her white salwar, her dupatta floating in the breeze, Shah Rukh Khan in his leather jacket, guitar in hand, singing Tujhe Dekha To Ye Jana Sanam..
(you can listen to the song here.   https://youtu.be/cNV5hLSa9H8)
My bubble was definitely burst, my thoughts of Shah Rukh Khan serenading me with his guitar wrenched away from me as darling heart placed his hand on my shoulder and shook me…"Sards, I think we are lost!"
We had driven off road…we were driving along a narrow road, what looked like an uninhabited area.  "Madam, we will be there in 5 minutes", said or driver.   Surely not, we thought… this could not be.  There is nothing around, it seemed like we were in the middle of nowhere.
Driving another 3 minutes, we came to these large ornate gates.  We were greeted by the smiling faces of two durbaans. 
Beyond the main circular driveway, lay The Grand Entrance, graced by the beautiful azure blue shimmering water feature .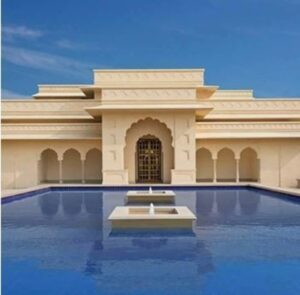 From the moment that we stepped inside the property, we were simply blown away.  The hotel is surrounded by 8,000 acres of Siswan Forest.  To say that the property is breathtaking is an understatement.  Centre stage,  in the courtyard is an arched gazebo, "floating" in a pool of water, surrounded by roaming peacocks and other birds, an abundance of nature juxtaposed with intricate feature walls in hand painted layers of gold leaf and others that require you to pause a moment and take in the beauty of the thekri mirror mosaic artwork.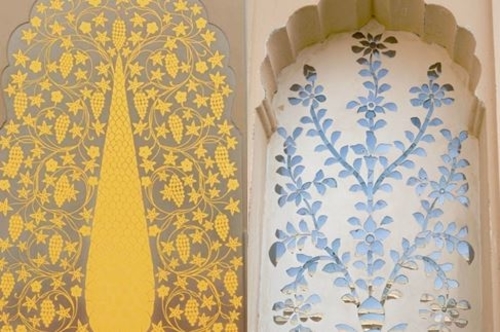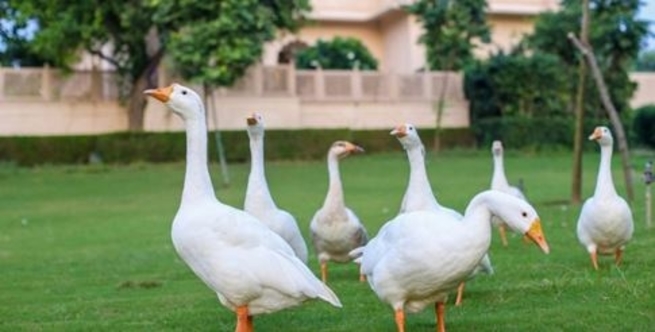 Walking into the Reception, surrounded by ornate yet soothing architecture being welcomed in the most heartfelt traditional way, we instantly felt we had underestimated this hotel, wishing we had booked more nights at this wellness retreat.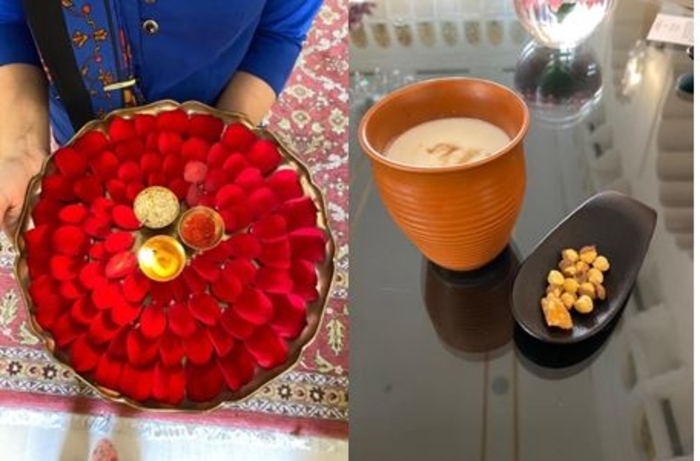 We drove through the forest to the Royal Forest Tent with a private pool, our digs for the night. Now, I must warn you… do not be fooled for this was not any simple tent.  Its way beyond glamping with an Indian block printed canopy roof, luxurious bathroom with a four clawed bath, private pool, his and hers wardrobes and magnificent four poster bed… (romance anyone??). It was serene and comfortable all at once.    There is perfection  indulgence in every corner, largely attributed to the staff. 
Sitting in the verandah  for our meals (we opted as we loved the indoor-outdoor feel) our tastes buds tantalised by comforting food, food which evoked a sense of nostalgia of my Indian heritage.   Sweeping views of Siswan Forest, allowed us to sit still and breathe in the beautiful surrounds during our meals.
The staff took care of every detail… each was well versed in my eating intolerances, darling hearts spice level tolerance to my request for items off the menu.   The food is so flavoursome.  South Indian delicacies, dosas, and my personal favourite  uthappam with sambhar.  Gluten free gobhi parathas made right in front of us allowed me to indulge and savour every bite. 
 As we breathed in the sense of calmness, we couldn't help but ask if there was a possibiity we could extend our stay…. Giving  usthe time to knead away the stress of long distance travel and indulge in the spa  and more glorious food… one of which was the sambhar.   Sous Chef, Vijay Bhav Chauhan took care of every dietary need… I relished in sambhar after a very longtime as he catered for me with dishes without onions.  He graciously shared his recipe with me which I am sharing with all of you…
Get the recipe here :  https://thetropicalindian.com/sambhar/
In our 10 days of India, most of it was spent surrounded by "chaos" and never ending noise, our 3 days at Oberoi's New Sukhvilas we created memorable moments and a soothing escape, memories of which will last with me for a lifetime.